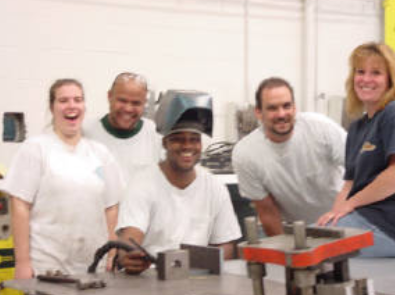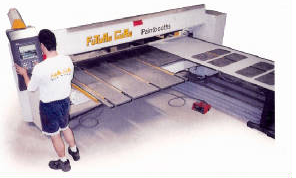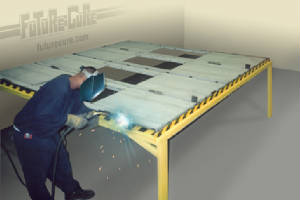 How do you, the consumer, judge "Quality & Craftsmanship" while surfing the net? Well, we feel that if we invite you into our home and show you just who we are, and what we are all about, it will help you judge. Just as with any company, a clean, neat, well organized workshop will exemplify the quality of the product produced.
More important than the equipment producing the product…the people, their attitude toward life…work…and commitment to producing the best products possible is what it's all about.

The 30' laser optic cutting table uses computerized CNC technology to cut the booth panels.
The fully automated folding table does the work of 2 men in half the time. All panels are form folded on all 4 sides for maximum strength. This adds incredible integral stability to the booth.
Our door systems are "Jig Built" meaning the complete assembly is locked into a form jig. Preassembled, the doors are checked for fit and finish, the drop-pin hinges are welded in place and the unit is shipped as a pre-hung door assembly.
Future cure was the first company to offer an electrostatic "Powder Coat " finish on the booth panels and the automated system applies the correct amount of powder required.
By maintaining our own fleet of trucks we not only control delivery schedules but also the condition of the product when delivered.